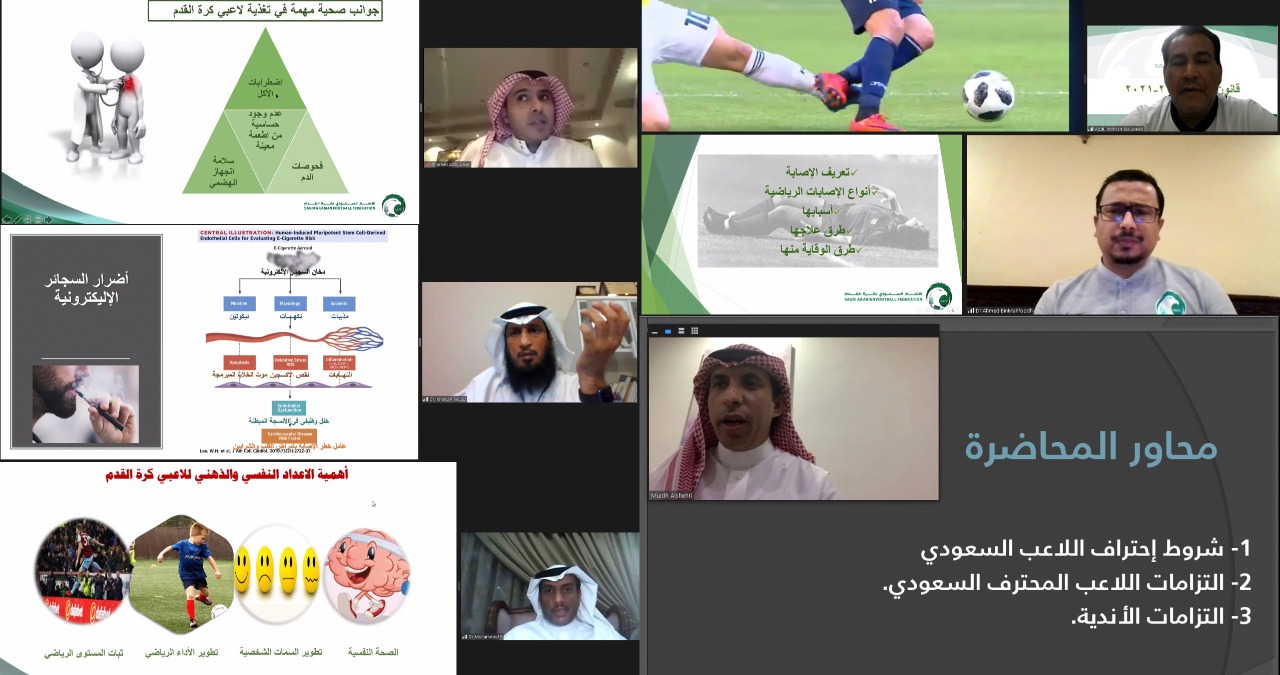 The technical committee concludes the knowledge and cultural communication course for the quality of the Saudi players
2020-06-20
17:59:35
The technical committee of the Saudi Arabian Football Federation concluded the knowledge and cultural communication course for the quality of the Saudi players, in the presence of Turki Al Sultan, a member of the board of directors, the head of the technical committee, and the official of education and coaches affairs in the SAFF, Dr. Yahya Al Sharif, which was allocated to the players of the Prince Mohammed bin Salman Professionals Cup League and the Prince Mohammed bin Salman League for first-tier.

The lectures of the course, which took place on Wednesday and Thursday, witnessed a number of important aspects in the various sciences related to the development of football players, most notably the psychological factors of players, types of sports injuries, and methods of treatment and prevention.

The course witnessed the participation of the Vice-President of the SAFF for Sports Medicine, Dr. Mohamed Al-Faqihi, the head of the Department of Physical Exercise Physiology at King Saud University, Dr. Ghareeb Al-Shuwaier, the doctor of the Saudi Olympic Team, Dr. Ahmed bin Mahfouz, and the training officer for referees in the Saudi Federation, Lecturer Abdul Mohsen Al-Zuwaid, and a faculty member at King Saud University Dr. Khaled Al-Jaloud.

Moeedd Al-Shehri, member of the Board of Directors and Chairman of the Professionalism and Ststus of Players Committee concluded the course with a lecture about sports professionalism, as he talked about the rights and duties of the professional players.

At the end of the course, Turki Al-Sultan noted the need to follow the precautions and instructions issued regarding the emerging pandemic of the CoronaVirus, and thanked all the lecturers for their valuable lectures to the players.